How To Assign and Resolve Follow-Ups in Spaces
Assigning follow-ups can be done at the file level, Space level, or Project level.
To assign a follow-ups specific to a file, navigate to the file and then click the needs followup option in the comment box.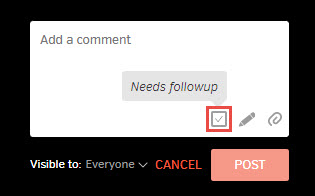 An assignment field will appear. Start typing the name of the person who you want to assign the follow-up and then select them from the drop-down. You can then choose an optional due date for the followup. By posting the comment the followup will be assigned.
In order to assign either a Space or Project level to do, the person you are assigning must already be a follower of the Space or Project.
To assign a Space level to do, like a request for someone to upload a set of files, click the To-Do's tab.
Then the red plus icon and select the create a to-do option.
From there you will be able to create a name for your to do, a brief description, choose who you want to assign to, and include an optional due date and reminder.
You can also do the same thing on the Project level.
Anytime you assign someone a followup they will be notified via email.