Discussions
We'd like to introduce a new feature for Business customers which is called Discussions. Discussions allows teams the ability to have all project related conversations in one place.  You can start a discussion prior to files being uploaded, or with an existing Space with files already in place.
The biggest change that you'll notice is the 3 tabs on the left hand side in your Space. The first tab is called 'Files'. This is where you will find the familiar grid of files you've uploaded to the Space. The second tab is called 'Discussions', and the third tab is called 'Pins'.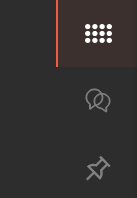 When starting a new post, a headline (in the text field labeled 'Start a new post' is required.  This headline will be used to refer back to the thread on your dashboard and pinned comments. If you want to reference a file in a Discussion, you can copy and paste the file URL to the description.

 
Once you have started a Discussion, hover on a comment to see options to EDIT, PIN and COPY LINK. Click on the PIN icon to pin the comment to the Pinned Comments. This allows you to bookmark important decisions, files or updates that you want to keep top of mind. These will appear in the 'Pinned Comments' tab. COPY LINK allows you to email, text, or instant message a direct link to a thread.
You can also @mention someone to send them the specific notation:


Hope you enjoy Discussions  which we created to help you share inspiration, discuss goals and brainstorm ideas to set your project in motion.