How to enable or disable iOS push notifications?
Three ways to enable or disable push notifications on the Hightail iOS app
Whether you're working on your desktop or on a mobile device, Hightail gives you the option to receive real-time notifications when your input is needed in your email inbox. And now, with our new push notifications feature for iOS, updates are front and center on your iPad or iPhone, also giving you one click access to Spaces where your attention is needed.
Note: While push notifications are currently only available for iOS, please stay tuned for this great new feature on your Android device later this year.
Push notifications are provided in six instances:
When you receive a file
When you are @mentioned
When follow up is needed from you
When a to-do is assigned to you
When approval is requested from you
When your files have been approved
When you click on the notification, it will take you directly to the Space the notification is referring to—so you can easily continue the conversation on anything that mentions you.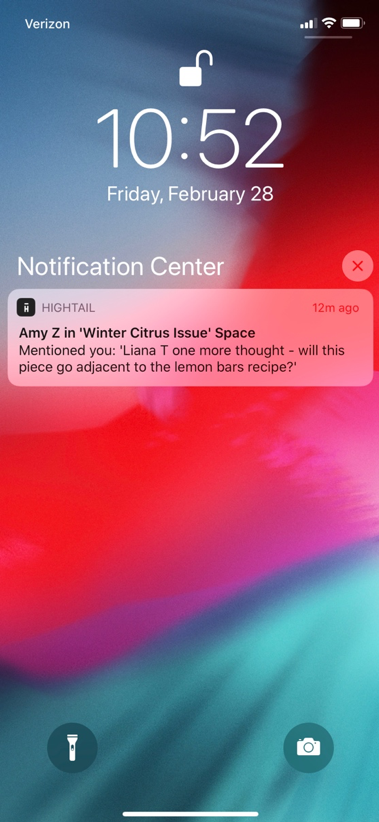 You won't receive notifications if you're already actively working within the Hightail app, or if an activity doesn't directly involve you in one of the six ways noted above (such as with a general comment in a Space with no @mentions or to-dos).
Turning off push notifications
If you don't want to receive Hightail push notifications, there are three easy ways to limit or turn off app notifications.
By clicking on a particular Space, you can easily toggle notifications on or off specifically for that Space:

If you find that there are several Spaces that you would like to turn mobile notifications on or off for, accessing your Hightail settings panel by swiping your screen from left to right gives you easy one-stop access to them all. You can also access this panel by clicking the hamburger menu in the top left hand corner of the app. Once you are in the account settings panel, simply click on "Mobile notifications":

That will give you access to toggle on or off push notifications for any of the Spaces that you follow:

When you log on to Hightail for the first time, you will be asked if you would like to receive notifications. But if you decide later that you want to turn notifications on or off, you can do it by accessing your phone settings directly in this order: Settings – Notifications – Hightail. That will take you to a screen to toggle on and off all push notifications at the system-wide level.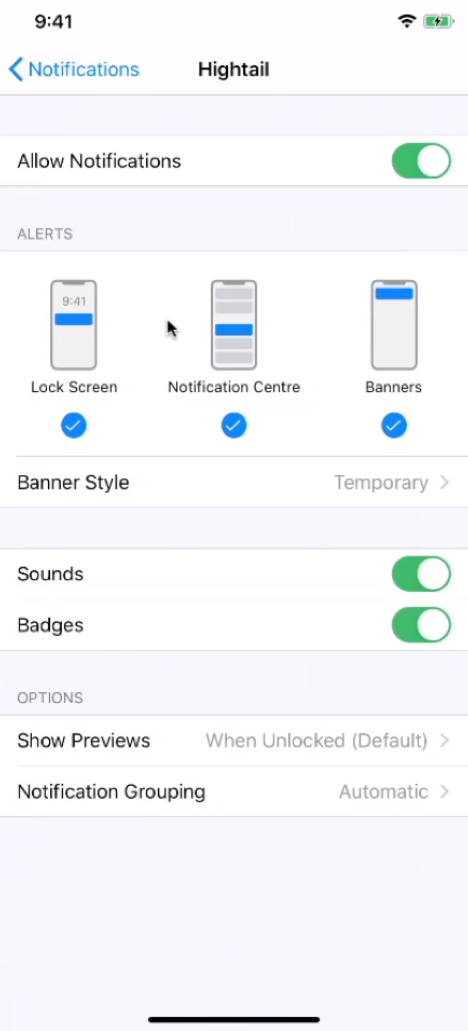 For more information on how to use the Hightail mobile app, please read "Collaborate on the go with the Hightail mobile app—now with push notifications."