Hightail Adobe Plugin
LINK PHOTOSHOP OR ILLUSTRATOR TO HIGHTAIL
Linking your file to a Hightail Space accomplishes two things:
Linking connects the file/s to the Hightail Space so that any actions taken in the plugin are updated in the Hightail Space as well.
Linking to a Space pulls down any comments made in the Hightail Space into the plugin, which allows the users to collaborate on Hightail without leaving Photoshop or Illustrator.
LOGGING INTO ADOBE PLUGIN
As a Business/Team user, log in to the Hightail plugin with the proper credentials. If you encounter unsuccessful login, we strongly advise to log in once using the website interface at www.hightail.com to validate your account and it should allow you to log in to the plugin again.
CREATE A NEW SPACE
To create a new Space, please follow the steps below:
Click on the orange plus icon in the upper-right hand or the plus icon at the bottom panel
Type in the Space name
Then, click on the Create button
Note: Without a Space name, the Create button will be grayed-out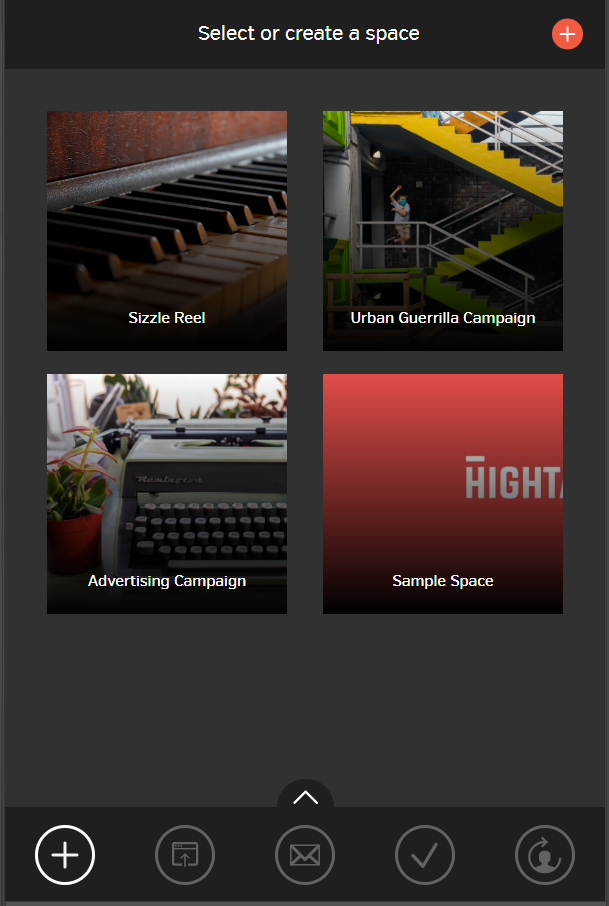 Once a Space is created, the Upload and Invite buttons will be enabled.
UPLOAD FILES TO A SPACE
To upload file/s to your Space:
Click on the file you want to upload from your Photoshop/Illustrator
Click on the Upload icon at the bottom panel
The name of the file will be auto-populated and can be renamed if needed
Then, hit on the Upload button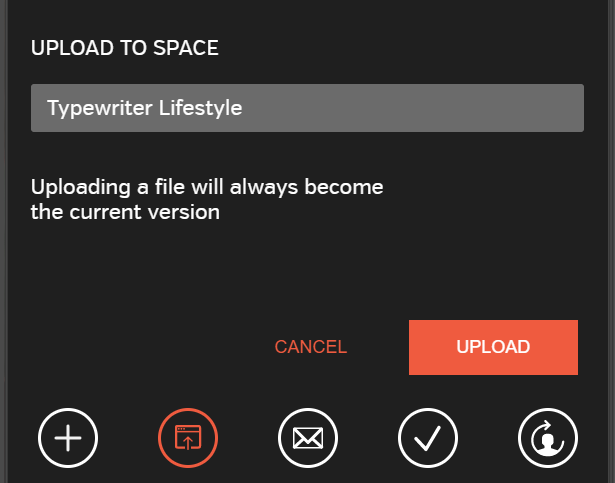 INVITE USERS TO A SPACE
To invite users to a Space:
Select the Space you want to share
Click on the Invite icon at the bottom panel
Type in the email address/es you want to invite to the Space
Then, click on the Send button
Note: If you enter an invalid email address, the Send button will be grayed-out
REQUEST APPROVAL
To send a file for approval:
Go to your Space and select the file you want to send for approval
Click on the Approval icon at the bottom panel
Type in the email address or you can use the @mention feature by typing @ followed by the user's name or email address
You can also click on the calendar icon to set a deadline or Approve by
Lastly, click on the Send button
Note: If there's in-progress approval for a particle file, the Approval icon will be disabled
ADD COMMENTS
To add comments or send a follow up:
Go to your Space and select the file you want to add comments
Click on Add Comment +
Type your comments and post it
Note: Users can view your comments and click on Reply to reply back on your comments
FOLLOW UP
To send a follow up:
Go to your Space and select the file you want to send a follow-up
Click on the Follow-up icon at the bottom panel
Compared to request approval, you can only use the @mention feature, and adding a message is required in sending follow-up
You can also click on the calendar icon to set a deadline or Follow-up by
Then, Hit on the Send button
Users would have options to mark your follow-up resolved or reply